Buyout Snowpine Lodge
The whole place, all to yourself
Make the Snowpine Lodge your own with a lodge buyout and create an unforgettable and exclusive event in the Wasatch Mountains. Our experienced sales specialists help you craft an itinerary where your guests will get the most out of their time in the mountains. With a lodge buyout, all guest rooms and facilities are yours and the entire Snowpine Lodge closes to the public. If you're looking to only buyout all guest rooms, that is also an option. No matter the size of your group or what sort of event you want to host, a buyout gives you access to all the mountain comfort and experiences Snowpine Lodge is known for.
30 Minutes
From Downtown Salt Lake City
54 Luxurious Rooms & Suites
For All Your Guests
Custom Activity Packages
To Play Your Way Year Round
Mountain Views
To Relax & Unwind
Memories
To Last a Lifetime
Venues Included in Your Buyout Package
---
Tucked away in the breathtaking Wasatch Mountains, Snowpine Lodge is a beautiful location for a buyout. From large team outings to intimate leadership retreats, the Snowpine Lodge is yours with a buyout.
Close
Snowpine Ballroom
Total
Square Feet 3,450
Room
Dimensions 75 x 46
Room
Height 12 ft
Seating Capacities

Banquet
175

Reception
200

Classroom
150

U-Shape
n/a

Theatre
150
Close
Swen's Restaurant
Total
Square Feet 1,600
Room
Dimensions 58' x 28'
Room
Height 8 ft
Seating Capacities

Banquet
75

Reception
n/a

Classroom
n/a

U-Shape
n/a

Theatre
n/a
Close
The Lawn
Total
Square Feet 2,050
Room
Dimensions 50' x 41'
Room
Height Outside
Seating Capacities

Banquet
70

Reception
100

Classroom
n/a

U-Shape
n/a

Theatre
100
Close
The Terrace
Total
Square Feet 3,100
Room
Dimensions Variable
Room
Height Outside
Seating Capacities

Banquet
60

Reception
100

Classroom
n/a

U-Shape
n/a

Theatre
n/a
Heated Outdoor Pool & Jetted Spas
---
At Snowpine Lodge, enjoy the fresh mountain air year-round in our heated outdoor pool and spas. Comfortable pool loungers, a pool volleyball net, basketball hoops, and jetted spas make this outdoor oasis perfect for your buyout.
Outdoor Firepits
---
Take in the grandeur of the Alta Ski Area at one of our outdoor fire pits. Located on the pool deck and terrace, you can warm up by the fire with your group while you enjoy the most iconic view in Albion Basin.
Fitness Center and Yoga Studio
---
The Fitness Center at Snowpine Lodge provides everything you need to help you keep up with your fitness regimen. Equipped with treadmills, ellipticals, a Peloton bike, a rowing machine, and a full-body weight machine, you won't need to skip a beat in your routine.
Amazing trip to Alta in April

"Had a wonderful vacation to Alta in April with kids. Snowpine was fantastic- can't beat the location, friendliness of the staff, food, pool/hot tub or hotel."

Everything you need in one place!

"Truly topnotch hotel. The ski shop had demos, the ski lockers are right off the slopes with heaters for boots and gloves, truly ski in/ski out we returned for lunch and headed back out again. Best part were the employees, everyone from reception on through our stay was energetic and friendly and helpful. Our room was super clean, beds super comfy, and the view wonderful."

Abigail,

Santa Fe, New Mexico

The best hotel in Utah!

"It was an absolute dream to be able to bring our children to the Snowpine this year. Everything about our trip was spectacular. The staff couldn't be better, the food was delicious, the time in the Nest was a favorite for the children as was the pool and hot tub. The skiing obviously is to die for. The Snowpine is by far and away the best hotel in Little Cottonwood Canyon and I would go so far as to say, the best hotel in Utah!"

The very best staycation!

"Superb accommodations. Fantastic front desk staff. Awesome game room. Wonderful pool. Great atmosphere. Smores by the fireplace was a great touch. A perfect time for a busy single mom and 2 kids to get away. We will be back! Thanks so much."

We can't wait to go back!

"Snowpine is amazing! We went as a family for fall break. An absolutely gorgeous hotel that feels so clean & inviting. A+ Interiors. Comfortable beds, great food…We loved the year round heated pool and breathtaking views from the hot tub. The kids couldn't get enough of the game room which is so well done. The hiking options are convenient and beautiful as we hiked out the back of the hotel as well as to Cecret Lake."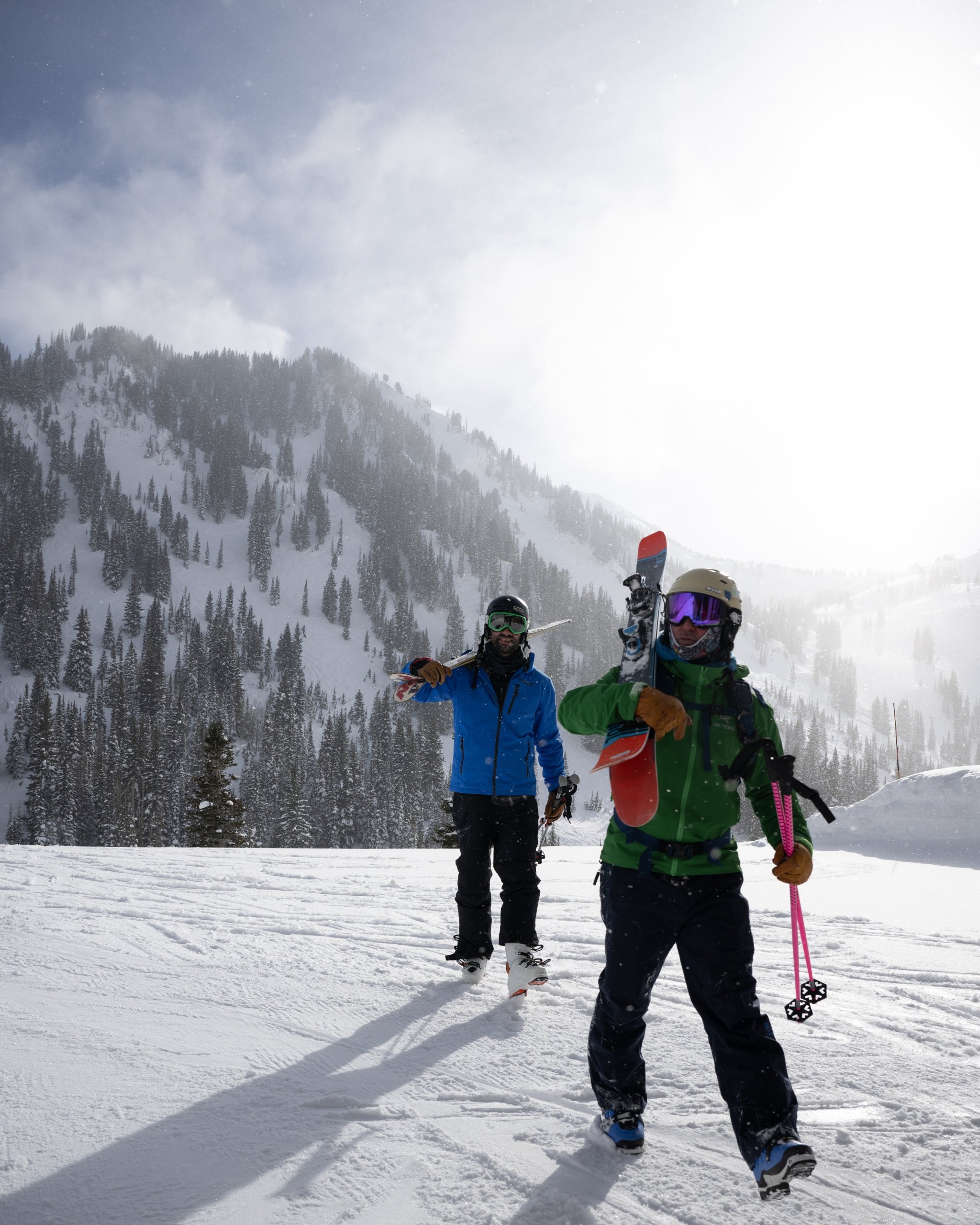 Winter is Coming!
Book your winter stay today with no initial deposit required: Save up to 20% off stays of 5 nights or more in 2024!
We had our first snow of the season over Labor Day Weekend which means, it's never too early to book ahead for winter!